Hockey jerseys are an integral part of any team's identity, representing not only the players but also the fans and the community. And as the sport continues to evolve, so does the technology and innovation behind hockey jersey design. In recent years, sublimated hockey jerseys have become increasingly popular due to their ability to produce highly-detailed and vibrant designs that surpass traditional printing methods such as screen printing or embroidery. This innovative technology has brought significant advancements to the hockey jersey design industry. In this article, we'll explore why sublimation is the future of hockey jersey design, and what makes...
---
Youth hockey is a dynamic and exciting sport that challenges young players both physically and mentally. As a coach or team manager, you have the power to do more than just outfit your players - you can craft a team identity that inspires unity and pride. Custom hockey jerseys are a canvas for your team's personality and style, and by designing jerseys that reflect your team's values, you can elevate team spirit to new heights. Imagine your players donning jerseys that capture the essence of your team - bold colors, dynamic graphics, and a design that's uniquely yours. By designing...
---
• funny hockey jerseys • hockey jersey concept
Hockey jerseys are more than just a necessary component of the game, as they embody a team's identity and character. However, why should they be limited to being serious and conventional? This blog post presents a collection of the wittiest and most imaginative hockey jersey concepts that are guaranteed to amuse everyone. These designs range from puns to nods to popular culture, demonstrating that hockey jerseys can be more than just a standard uniform. Whether you're a player, a supporter, or just appreciate a good laugh, these funny hockey jerseys are not to be missed. So, relax and get ready to chuckle...
---
• custom hockey jerseys • hockey jerseys
Introduction Hockey jerseys are an essential part of any player's uniform and represent the team's identity on the ice. Given the extensive range of styles, materials, and customization options, the task of identifying the ideal hockey jersey to meet your specific requirements can prove to be a daunting endeavor. In this all-inclusive guide, you will be taken through the step-by-step process of selecting the perfect hockey jersey, which encompasses critical aspects such as sizing, materials, styles, team colors, logos, and personalization options. Whether you're a professional player, an amateur, or a fan, we have the information you need to make...
---
• embroidery • sublimation • tackle twill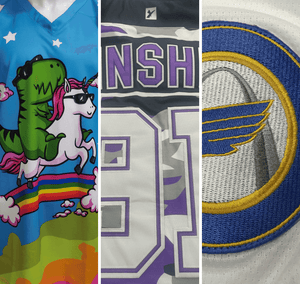 Since the 1990s, decorating sportswear has become an evolution. Now there are a variety of decoration methods available. Youngspeeds offers four options, including screen printing, dye sublimation, tackle twill, and embroidery. Not sure which type to go for your team? You might have an answer after learning the difference between these four methods. Screen Printing Screen printing is a process that the ink is pushed through a mesh to imprint the design on the fabric. Its main advantage is that it is cost-effective while it usually requires a minimum order quantity of 100-500pcs to be efficient, which means it's better...